Mag. art. michael johannes muik [mjm]
MICHAEL JOHANNES MUIK was born in 1984 near the Hungarian border in Oberwart or Hartberg in Austria. After a fundamental education in trumpet and electronic engineering, he was seeking heavily for more education, culture and art. Therefore, he moved to Vienna to study "Digital Art" at the University of Applied Arts, where he graduated with high honour in 2014. He also studied "Audio Visual Media Culture" in Finland and lives and works in Vienna and Unterlimbach.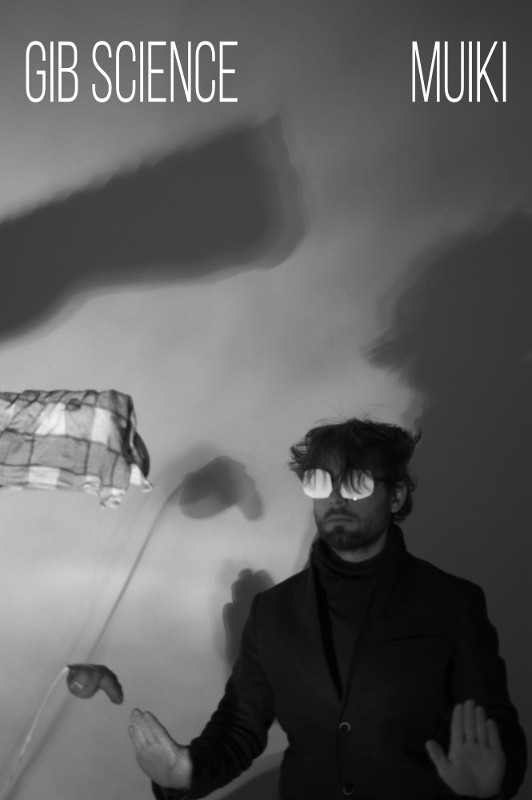 "I love playing and I'm doing it when I'm working with my art. The approach is straightforward: I get the most satisfaction, when I work with topics, media and different materials I have absolutely no idea about. Just exploring until I develop a feeling for it. Then the river of curiosity sweeps me to the next thing. But also too often back to the beginning..."
There is no way to point Michael Johannes Muik's oeuvre within a single entity... Can't you? Besides compositions in the manner of musique concrète and a large portion of sound poetry you find animation videos which connect those things visually in a very humorous way. Then in his various sound installations and sculptures - so it seems, he just puts those sounds and videos (literally) on a trampoline which is controlled by a motor. The result is a speaker jumping on a trampoline! The movement is coordinated with the seemingly Dadaistic sound composition the speaker reproduces ("lautposition"). In his "datasubstrata" performances he explores his surroundings with special goggles and lots of different sensors to bring everything around him into oscillation depending on his movements. On other hand, you also find very poetic installations like "icecube" where he puts a hair dryer into an ice cube, just to turn it on and melt the ice from inside. Or as in "fishing is the activity of trying to catch fish" where he tries to catch a fish and mount a camera on it, just to throw it back and trying to catch the same fish again to watch the video...
EDUCATION

1984 born in Oberwart or Hartberg
1995-2005 Music school Bad Waltersdorf, Trumpet
1999-2004 HTBL-Pinkafeld, department for electrical engineering
2004-2005 Civil service
2005-2007 Die Graphische, department for media technology / Multimedia
2007-2014 University of Applied Art Vienna, digital art
2013 University of Lapland, Faculty of Art and Audiovisual Media Culture 2014 Graduated with high honours at University of Applied Art Vienna
Exhibitions / Performances / Lectures

2008 "He didn't eat the icecream", Europrix Multimedia Top Talent Award, Quality Seal Animation Film, Graz.
2009 "Literatur lebt in zeitlupe im Karpfenteich", Komposition, Radiospotting Linz.
2010 Mängel Gegenstände Hängen Informelles Radio, Strassenbahn & OE1 Kunstradio.
2010 Impro Jazzattelier Gruppenaustellung, Ulrichsberg.
2010 Latexmikrofon @Other Dimensions, Schikaneder, Gruppenaustellung, Wien.
2011 Datenbrille, performance @ 2kolegas, Beijing
2011 Datensubstrat Cultural Morphing @ mo.ë
2011 Cultural Morphing, OE1 Kunstradio
2011 <150>20, Y/OUR space, Gruppenaustellung Wien
2011 "Alternate Reality Conference Play", live performance, Kunsthalle project space Karlsplatz
2012 <150>20, redefine defaults, Palais Thurn und Taxis, Gruppenaustellung, Bregenz.
2012 SoundPath @ Sound Barrier, Festival für Hörkunst im Raum, Wien.
2012 <150>20, @ Sound Barrier, Wien.
2012 Datenbrille, Soundscape Performance, Power Laser3000, Ragnarhof Wien.
2013 "SIME", Rovaniemi Design week, Finland.
2013 zip.rar Konzert, Klangkunsttage Wien und @ RUMMEL HUMMEL Wien.
2014 Laut_position, Diplomshowing Digitale Kunst.
2014 Raben Fragen Magen Performance @ bloeder dritter mittwoch
2014 Der Sprechchor @ OE1 Kunstradio
2017 our first audible/profitable economy/exhibition @Zentrale
2017 advanced obstacles #1 @Kugelmugel Antifaschismuspl.2, 1020 Wien
2017 our first audible/profitable economy/exhibition @Kugelmugel
2017 our first audible/profitable economy/exhibition @ars electronica
2017 our first audible/profitable economy/exhibition @PlanD, Zagreb, Croatia
2017 "Extratonale Automatisierung – Lösungen und Probleme" Public Lecture ARTIST TALK – DIGITALE KUNST
2018 Walking through objects - an intratonal approach" - Michael J. Muik (AT, nothing more - Association for the Promotion of Art, Irritation and Commons), @ Solutions and problems in Extratonality 4 "Extratonality - Opening Doors Is Not Enough"